The Effervescence Stars competition awards the work and scientific achievements of young and talented researchers at the University of Quebec who have contributed to the development of life sciences in Quebec.
Among the three researchers who have set themselves apart this year are Marina Martinez, an associate professor in the Department of Neuroscience at the University of Montreal, and Andres Finji, an associate professor in the Department of Microbiology, Infectiology and Immunology at UDM. The two winners, who have formed partnerships with the life sciences and health technology industries, were awarded a scholarship at the awards ceremony held at the Bonescores Market on May 11. They will also have the opportunity to follow a personalized training to present their project in the TED discussion method.
Marina Martinez
Marina Martinez, Associate Professor in the Department of Neuroscience at UdeM
Credit: Alexander Bellaier
Marina Martinez, a researcher on the Traumatology Axis at the Hôpital du Sacré-Coeur-de-Montreal Research Center, co-founded Neuroldrive, a Canadian company specializing in the development of neurostimulation devices to restore movement after paralysis.
In his lab, he and his team designed a technology that targets the motor cortex, the part of the brain that orchestrates voluntary movement. When the user attempts to perform a movement, electrical microstimulations are applied to amplify the signal to a specific area of ​​the motor cortex and to maximize the movement.
"My work is mainly driven by paralyzed patients. My goal is to enable them to regain their autonomy through a translational research program focused on restoring body control and developing neurorehabilitation techniques, "he explained.
Given the high potential of this new neurotechnology to improve the independence and quality of life of people with motor paralysis, Marina Martinez and her team are currently pursuing regulatory research and development stages to bring this invention to patients' beds.
Andres Finji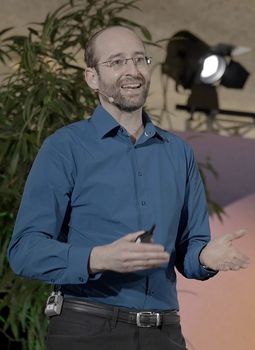 Andres Finji, Associate Professor in the Department of Microbiology, Infectiology and Immunology at UdeM
Credit: Alexander Bellaier
Andres Finji, a researcher at the CHUM Research Center and an international authority on virology, is at the center of research efforts on SARS-CoV-2 in Quebec and abroad. His work, performed in close collaboration with a number of actors, including Quebec's Public Health, designed a targeted immunotherapy for the treatment of Covid-19, as well as specific molecular and cellular devices to better understand and observe the ridiculous response. And SARS-CoV-2 from cellular.
Thanks to these tools, it is possible to specifically select patients who present the best immunity, that is, individual antibodies with the highest therapeutic potential. Dr. antibody cocktail.r Finji and his team are currently undergoing clinical trials in partnership with Sherbrooke biotechnology company Immune Biosolution.