>>NA President Receives Special Adviser on Japan-Vietnam Friendship Deputies Alliance
>>NA President welcomes JBIC Board Chairman
>> The role of Vietnam-Japan cooperation for peace and stability in the region
Vu Hong Nam, Ambassador of Vietnam to Japan.
Photo: TD/CVN
Relations between Vietnam and Japan
The two governments and the two peoples of Vietnam and Japan are eagerly awaiting the 50the 2023 marks the anniversary of the establishment of diplomatic relations between the two countries. They have been developed and cultivated by generations of leaders and people in Vietnam and Japan over the past 50 years and have continued to develop in recent times.
In 1973, when the Vietnam War was still not over, the Japanese government recognized and established its relationship with the government of the Democratic Republic of Vietnam. This event encouraged international support for the just struggle of the Vietnamese people, helping them liberate the South, reunify the country, and build an independent Vietnam.
During the severe embargo since the late 1980s, Japan was the first country to reopen negotiations on Official Development Assistance (ODA) for Vietnam. These helped Vietnam revive its war effort and impose sanctions on a battered economy.
Some Japanese companies, which were also the first foreign companies, decided to set up their representative offices and do business in Vietnam despite the ban.
So far, ODA provided by Japan accounts for one-third of the total value of Vietnam's foreign ODA, contributing to the country's infrastructure, poverty reduction and macroeconomic development.
Japan ranks third among foreign investors in Vietnam, occupying an important position in key sectors of the economy such as energy, manufacturing, auxiliary equipment, roads, ports and airports.
He is 4e Vietnam's trade partner with a balanced trade balance, brings harmonious benefits to both countries. In addition, bilateral cooperation has made significant progress in defense, security, education, human resources and people-to-people exchanges.
Contributions from companies and areas
Japan's foreign direct investment (FDI) funds in Vietnam are estimated at US$64.9 billion, accounting for 16% of the country's total FDI.
This figure remains modest, but it is highly significant, as Japanese companies have mainly invested in Vietnam's main sectors such as industry and infrastructure, energy, equipment and spare parts.
Since 1995, major Japanese companies such as Toyota and Honda have achieved success through Vinh Phuoc province's foreign investment attraction policy.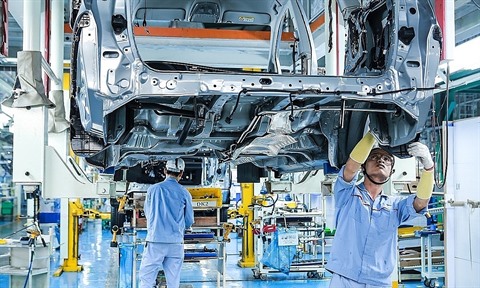 A Toyota Vin Phuc (North) production line.
Photo: vneconomy/CVN
In particular, the Thang Long industrial zone in Vinh Phuoc with an area of ​​213 hectares, funded by Sumitomo's Japanese group in 2015, is reserved for Japanese investors only. This demonstrates the confidence of Japanese investors in the province's investment, living and working environment.
30 years ago, Vinh Phuc was a poor province with poorly developed agriculture. But today, it has become a successful example of policy to attract foreign investment, especially FDI companies from Japan. FDI projects of 62 Japanese companies with a total registered capital of US$2.16 billion ranked first in terms of business efficiency as well as budget contribution.
Foreign investors, including Japanese, have created jobs for local workers, actively contributing to the socio-economic development of the province. At the same time, it is always a reliable companion, helping investors to run their business efficiently and profitably.
A diverse and flexible foreign policy has helped the province achieve many successes. It established a dual relationship with Japan's Akita Prefecture in 2015 and Tochigi in 2021. These play an important role in its economic development.
Therefore, the strengthening of friendly relations has actively contributed to the development of comprehensive cooperation at the local level, thus becoming a solid basis for encouraging Japanese investors in other fields such as investment, trade, high-tech agriculture, tourism and work, education. and training, health, science and technology.
Strengthen cooperation with Japanese partners
Vietnam and Japan are part of several free trade agreements such as the Comprehensive and Progressive Agreement for Trans-Pacific Partnership (CPTPP) and the Regional Comprehensive Economic Partnership (RCEP). So the products of both countries are equal. Vietnamese companies must enter this market.
For a long time, I find that Vietnamese people are strong in computer technology and mechanics because they are intelligent and skilled. More than 10 Vietnamese IT companies are successfully operating in Japan. I expect it to be a pioneer investment area from Vietnam to Japan in the coming years.
Thousands of Vietnamese mechanical engineers work efficiently and prestigiously in Japanese companies. This will be a good situation for Vietnamese companies willing to invest in the manufacture of mechanics and machine spare parts in Japan.
Agricultural and aquatic products, food, clothing, footwear and furniture will remain Vietnam's strengths in the Japanese market. However, there is still fierce competition for these in the Japanese market as the Japanese are said to be demanding.
Therefore, Vietnamese producers should pay great attention to maintaining product quality and consumer safety.
Vietnamese Prime Minister Pham Minh Chin and his Japanese counterpart Kishida Fumio have met three times in the past six months. They agreed to make Vietnam a manufacturing location that would steadily supply products to Japan and other economies, and extend support to other areas such as start-ups, digital transformation and green transition.
Vietnamese companies should quickly seize this policy to link the supply chain of the Vietnamese and Japanese economies.
In the coming time, when Vietnam joins the Asian community to reduce emissions under the auspices of the Japanese government with a total capital of ten billion US dollars, we will need the agility and courage of Vietnamese companies to participate in exploration and production. New and clean energy, thus creating the miracle of Vietnam.

NDEL/VNA/CVN