Raised by Wolves – Season 1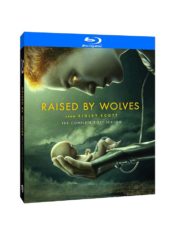 United States: 2020
Original title:-
Creation: Aaron Guzikowski
Actors: Amanda Collin, Abubakar Salim, Travis Fimmel
Publisher: HBO
Duration: Around 7h30
Genre: TV Series, Science Fiction
DVD/BR Release Date: June 22, 2022
XXII century. Two androids, Mother and Father, are tasked with raising human children on Kepler-22b, after Earth is destroyed in a great war. As humans tear each other apart against the backdrop of religious wars, the robots learn that trying to control human beliefs is complicated and dangerous…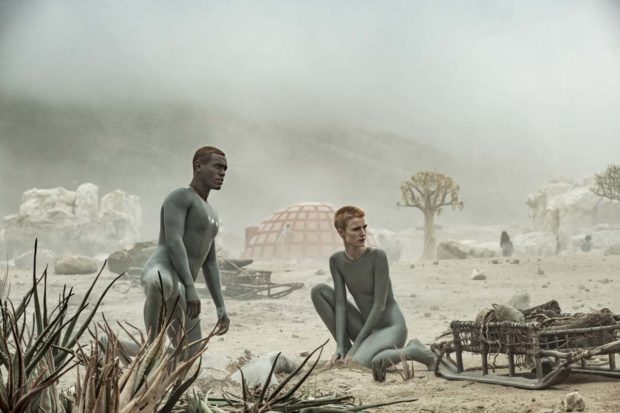 the season
[4/5]
Aaron Guzikowski is certainly unfortunate. In 2009, he wrote the screenplay captive, which would eventually be staged a few years later by Denis Villeneuve, who would monopolize all of the public's attention and completely vampirize his name in the film's credits. In 2020, do it again Raised by wolves, the series he created: Aaron Guzikowski's name will be dropped entirely by executive producer Ridley Scott, who will also direct the first two episodes and hand over the production of the next two to his son, Luke Scott. So it's not until today that Aaron Guzikowski's name rings a bell…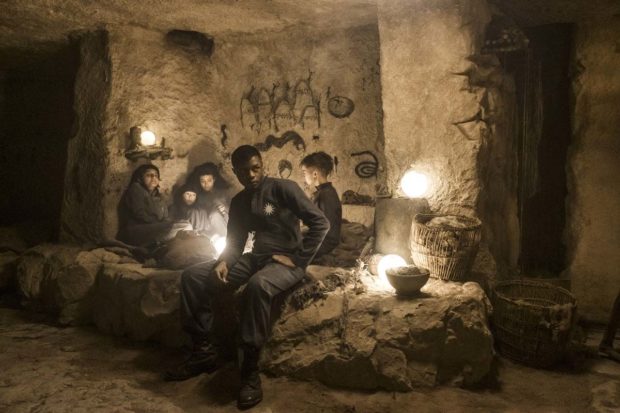 But that was to be expected: Ridley Scott and science fiction is a long story, and looks at its creatorstranger And Blade Runner A return to the genre that made it famous is always an event. Moreover, with his recent forays into the genre, we've come to realize that Ridley Scott is developing a particular attachment to a certain type of SF we'd call "old school": bald and creepy monsters. Prometheus Actually seemed straight off the pages screaming metal of the great era, and it is not surprising that the filmmaker was attracted by the project Raised by wolveswhich stands as a visual and mystical SF fresco influenced by what the big names in the genre were doing in the 70s.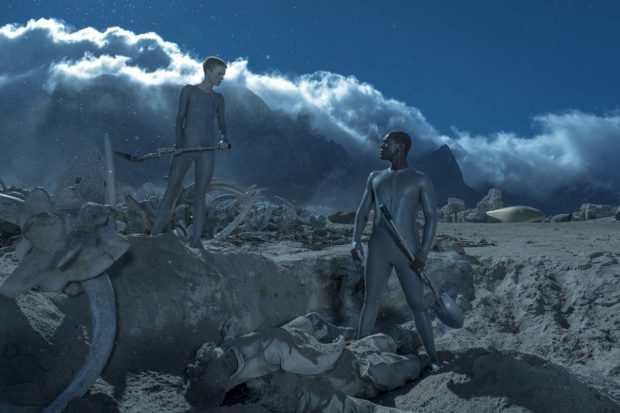 So, from its first minute, Raised by wolves To the apostles of ultra-technological science fiction and other champions of "hard-sf," an old-fashioned visual style might seem offbeat, even frankly kitsch. The two robots we discover in the show's first sequence feature a silver combination that one would think came from its cover. decoration magazine 1930; We then quickly realize that the two androids have completely asexual bodies, evoking the visual confusion imagined by Mobius, Drouillet or Richard Carr in the mid-1970s.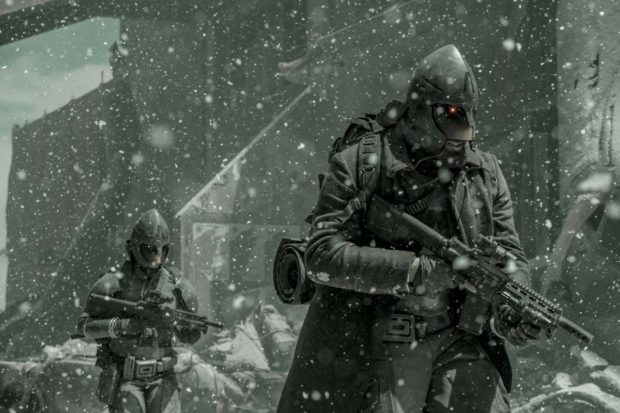 And at least we can say that for those who admit their aesthetic biases, Raised by wolves Driven by the performances of Amanda Collin (Mother) and Abubakar Salim (Father), who seem more real than life in the skin of these sentient machines will prove to be a resounding success. Undoubtedly, their interpretation is one of the highlights of the series: many of the show's most memorable moments will indeed be when they share an almost too human conversation in a completely mechanical language. The care that Aaron Guzikowski and his team give to these two central characters allows the viewer to connect with them, almost understanding the motivations of the cool mom when she goes into liberating "god" mode and destroys everything in her path.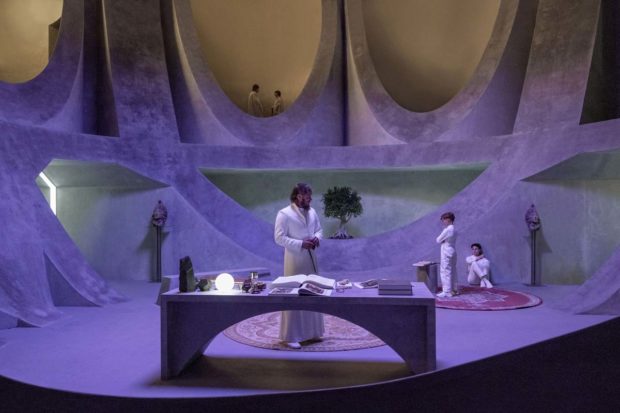 Reference to a concept of divine power is not innocent: one of the most important threads Raised by wolves Relies on the opposition of religion and atheism, upon which various human groups have established their existence. This idea is further reinforced by the iconic pose that the mother character takes (legs together, arms outstretched) when she goes into necromancer mode. The reference to Christ on his cross is obvious, even if for once people do not practice Christianity as we know it, but a religion of the sun, whose followers pray to a god called "Soul". However, the skill of the show is never to take sides, never to decide, to present the two "camps" roughly alike.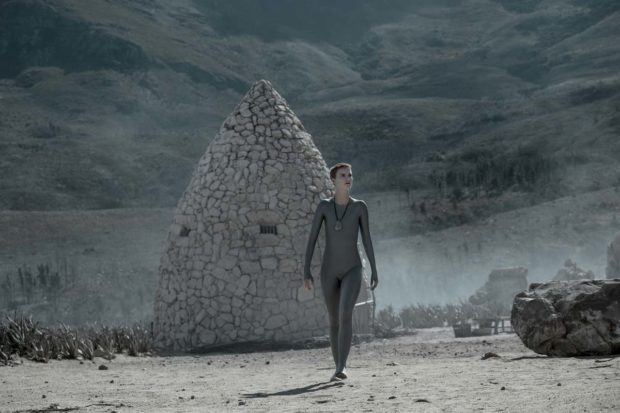 Soule, whether an atheist or a believer, is the center of the plot with two factions Raised by wolves Both have favorite characters and others much less. But overall, it seems that big questions of a philosophical or theological nature have been relegated to the background in favor of simple survival, and whether they believe it or not, neither party is particularly capable of adapting to life on Kepler 22b. Of course, the beliefs developed on the episodes by followers of "Soul" may have the advantage of being relatively familiar, but we will often return to more "basic" ideas (the concept of family in the broadest sense and the hostile environment in which to live), Raised by wolves Don't hesitate to get particularly violent and dark, regularly endangering the children at the center of the plot.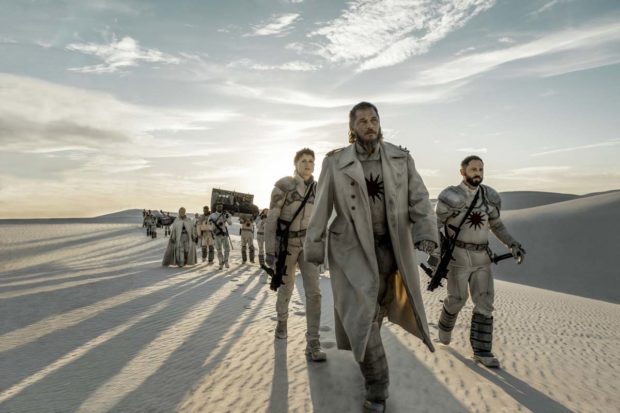 As for the rest, the series unfolds its first ten episodes at a steady pace, adding twists in a believable way and always leaving the viewer wanting more. When it comes to establishing a world and atmosphere, few can match the vision of Ridley Scott, who demonstrated with the first two episodes. Raised by wolves That he is still a boss in his field. Whether it's how he sets up the dark and desolate landscapes of Kepler 22b or how he creates his complex universe, this man has a knack for creating believable and immersive alien environments. The general atmosphere and narrative is mastered, and it won't take the viewer long to understand that, as the plot moves on to something much bigger and more exciting, the "wolf" of the title doesn't necessarily denote extreme harshness. Developed by the character of the mother, but actually [Attention SPOILERS] In the myth of Romulus and Remus. [Fin des SPOILERS]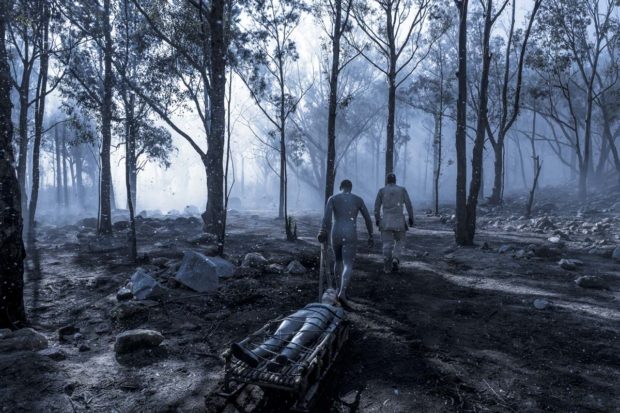 Blu-ray box set
[4/5]
Edited TV series as usual HBOIts high-definition rendering Raised by Wolves – Season 1 Impeccable, and this new Blu-ray box in no way contradicts our past impressions: the three discs in the box once again offer us an image with strong definition and sharpness, as well as color and simply impeccable contrast management. Sound-wise, only the VO benefits from a mix DTS-HD Master Audio 5.1, and the latter turns out to be a real cosmic killer. Spatialisation, voice placement and various acoustic elements… everything is set to perfection and literally immerses us in the hostile nature of Kepler 22B. The French version must be composed with an encoding Dolby Digital 5.1 Very neat, quite satisfying but clearly – and very logically – below its big sister VO, especially during intense action scenes.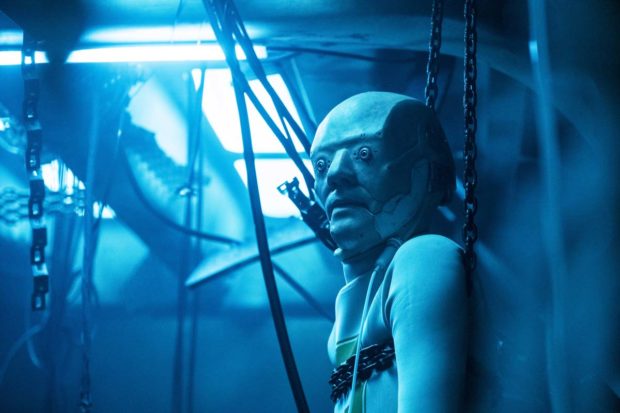 Box next to the bonus section Raised by Wolves – Season 1 Four of us offer a small handful characteristics (9 minutes total) which will outline the design of the series, mainly highlighting Ridley Scott's active participation. This will be an opportunity to discover some filming secrets as well as some concept art.